Frequently Asked Questions
WHAT IS THE RETURN POLICY?
---
All sales are final on functional art, light fixtures, and wine stoppers unless items were broken within transit.

We offer a 30 day money back guarantee or replacement memorial if an item is damaged during transit. Return requests based on aesthetic differences are not considered, however please reach out if there is an issue with your custom piece. Each item is handmade, and will be as similar as possible to the product pictures. Absence/presence of bubbles, color hues, ash placement and exact sizing does not constitute an aesthetic defect.
---
WHAT IS THE TURN-AROUND TIME AFTER I PLACE AN ORDER?
---
If the item is in stock, it will be shipped within 1 business day after the order is placed. For winestoppers, please allow 2 weeks for your order to be fulfilled and shipped. For cremation pieces, please allow 4 weeks after the cremains are received for your order to be fulfilled and shipped. For any custom pieces/light fixtures, a quote and time frame will be given.
---
HOW ARE MY LOVED ONES ASHES HANDLED AND STORED?
---
Each collection kit is labeled and stored in a filing cabinent. When working with ashes, we remove a sample from the collection kit and place it on a disinfected graphite surface. Any leftover ash is placed back in collection kit tube.
---
HOW MUCH CREMAINS DO I NEED FOR MY ORDER?
---
Each order will contain a collection kit that will have a small funnel, plastic vials, and a small spoon. When you receive the kit, fill however many vials are in there. Any unused cremains will be returned when the order has been fulfilled.
---
WHAT IF I AM NOT COMFORTABLE COLLECTING A SAMPLE OF CREMAINS?
---
If you are local to Ventura County, we suggest making an appointment to come by the studio and we can take a sample. If you are not local, we recommend that you ask a close relative or the funeral home to assist. If you have any questions feel free to reach out and we can answer them for you.
---
WHAT IS YOUR SHIPPING POLICY?
---
Shipping is free in the Contiental U.S. for all orders. When a cremation order is placed, we cover the shipping costs and provide materials to send your collection kit back to us.
---
CAN ASHES BE COMBINED?
---
Ashes will be combined upon request, please let us know in the order comments and we can send you an appropriate sized collection kit.
---
DO I GET ANY CREMAINS IN RETURN?
---
If there are any leftover cremains after an order is made, we will send it back with the fulfilled order.
---
WHAT COMES IN MY ASH COLLECTION KIT?
---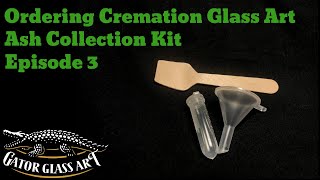 In each ash collection kit you will receive; a plastic vial, one small funnel, one small spoon, a prepaid shipping label, and a bubble wrap envelope. When the sample has been placed inside the vial, please secure the lid. The funnel and spoon do not need to be returned.
---
---